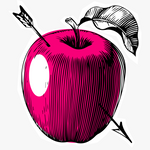 Apples are our passion
For us it's not real cider unless it's fermented from 100% English cider apple juice. Simple.
We could wax lyrical about the wonders of the English cider apple - it doesn't take much to get us going - but for now we'll just say that for a fruit that's the result of centuries' worth of propagation and cultivation, and a priceless reflection of England's horti/aboricultural heritage, it remains grossly overlooked and undervalued. And we want to change that.
Mission: Liberate The Apple!
To achieve Real Cider you need the tannins from bittersweet or bitter-sharp English cider apple varieties. This bitterness gives the resulting bite, body and depth of flavour indicative of the traditional drink. It's glorious, unmatched and exactly what you'll taste when drinking our ciders.

It's no wonder then that our priority is to create the perfect conditions for the apples to express themselves. So, it's fresh pressed juice, fermenting in ambient temperatures and then a looong ageing process. We do it in slow motion, delivering our cider only when the time is right, all so we can provide a long, satisfying refreshment worthy of the mighty apple.
Check out a selection of the apple varieties we use below..!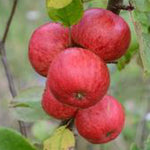 Browns

Early sharp - Fruit, oblate or flattened cyndrical. Flesh, mild sharp, white, chewy. Juice SG1048, acidity 0.67%, tannin 0.12%. Cider, sharp cider, fresh and clean with fruity aroma.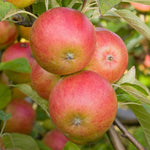 Michelin

Mid season bittersweet – Fruit, conical/cylindrical/ribbed. Flesh, sweet
with some astringency, white, woolly.  Juice SG1050, acidity 0.25%; tannin 0.23%. Cider, medium bittersweet with soft tannin.
Dabinett

Late full bittersweet – Fruit, flattened conical/round. Flesh, sweet and astringent.  Juice, SG 1057, acidity 0.18%, tannin 0.29%. Cider, full bittersweet, soft astringency, full bodied.
Foxwhelp

Bittersharp, - Fruit, flattened conical. Flesh, sharp with astringency. Juice, SG1060, acidity 0.19%, tannin 0.35%. Cider, sharp bittersweet.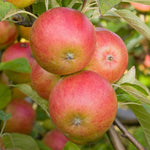 Vilberie

Late bittersweet – Fruit flattened conical. Flesh full bittersweet, greenish, chewy, hard. Juice SG 1062, acidity 0.23%; tannin 0.50%. Cider, sweet with full astringency.
Yarlington Mill

Late mid season bittersweet – Fruit, conical/cyclindrical. Flesh, sweet with some astringency. Juice, SG 1052, acidity 0.22%, tannin 0.32%. Cider, medium bittersweet.